The Congregation of the Franciscan Missionaries of St. Joseph of the Third Order Regular of St. Francis of Assisi, founded in 1883 by Mother Mary Francis Ingham and Bishop ( later Cardinal) Vaughan, is a religious congregation of pontifical right. (FMSJ Constitutions)
Sister Anne Moore is our current Congregational Leader. She is assisted by Sister Margaret Nyabongoye, assistant Congregational Leader, Sister Annjentrix, Bursar, Sister Frances Slater, Secretary General and   Sister Brenda Makokha, Councillor. These 5 sisters form the Congregational Leadership Team and are also the trustees of the Congregation.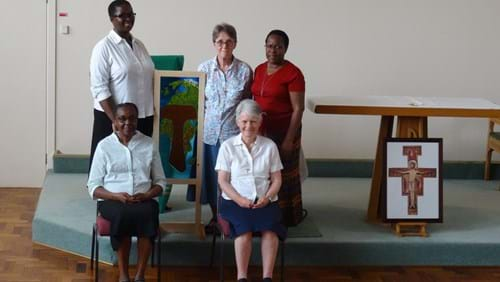 Seated: Sr. Margaret, Sr. Anne, Standing: Sr. Annjentrix, Sr. Frances, Sr. Brenda
The Headquarters of the Congregation is the Generalate, located at St. Joseph's Convent, 150 Greenleach Lane, Worsley, Manchester M28 2TS. Telephone:0161 794 1062; Fax: 0161 794 6420.